Close
Avangate Acquires 2Checkout

to Expand Payment Flexibility and Broaden Market Reach

Combined company will bring a unique combination of eCommerce and subscription management solutions to market through various payment models across the globe.
Find out more:
Start Selling PagePlus X6
Up to 85% Commision for Top Affiliates Products
Sell top software and SaaS titles as an affiliate!

Latest offers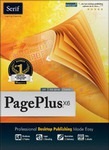 Merchant: Serif (Europe) Ltd
Category:
PagePlus X6 , the #1 desktop publishing software, provides all you need for business-class digital publishing and print design – no experience required. Create stylish promotional materials and stationery, publish e-books, fully edit PDFs, and make interactive multimedia brochures like no other office software! Produce eye-catching designs ready for desktop or professional printing, and output digital publications for viewing on a computer, iPad®, Kindle™, smartphone or other device. With intelligent layouts, built-in photo editing, a logo creator and much more in an uncluttered workspace, PagePlus X6 does what your word processor and other office software can only dream of!
The visitors that come to us from your site are traced for at least 30 days, so if they buy even in a month or two, you will still get your money from the sale.
We will provide you with banners and links to use on your site. All you have to do is place them so that they are easily noticed by your visitors, then start counting monthly revenues.