Close
Avangate Acquires 2Checkout

to Expand Payment Flexibility and Broaden Market Reach

Combined company will bring a unique combination of eCommerce and subscription management solutions to market through various payment models across the globe.
Find out more:
Start Selling Gilisoft USB Lock
Up to 85% Commision for Top Affiliates Products
Sell top software and SaaS titles as an affiliate!

Latest offers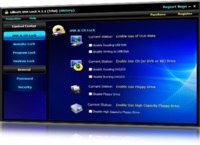 Merchant: GilISoft Internatioinal LLC.
Category:
How often has your data been stolen because someone connected an unauthorized USB to your computer and copied your files? Well, you don't need to worry because the solution to disable or enable USB Ports is pretty simple.

GiliSoft USB Lock is a data leak prevention tool that prevents leakage and copy of your data to USB Drives (Android phone/iPhone), External Drives, CDs/DVDs or other such portable devices. Once installed, USB Lock lets you block all such drives and devices that do not belong to you. USB Lock can stop stealing or hacking and you can share your PC with anyone without fear of data theft. This is an easy USB Secure Software and powerful Endpoint DLP Suite that helps you to lock usb port,make dvd/cd burner read-only, block some websites, forbid some programs and disable more devices.
Other products from GilISoft Internatioinal LLC.
The visitors that come to us from your site are traced for at least 30 days, so if they buy even in a month or two, you will still get your money from the sale.
We will provide you with banners and links to use on your site. All you have to do is place them so that they are easily noticed by your visitors, then start counting monthly revenues.