Avangate's frequently asked questions and answers for software authors
General
Payment
Avangate Prepaid MasterCard®
Implementation
Security
Software Delivery
General
1. Why should I choose Avangate services?
Avangate provides Professional eCommerce services for Leading Software Companies, ranging from security and multimedia to business and education, assisting them to successfully sell software online. The main benefits of using the Avangate services are:
Avangate saves time
The Avangate platform incorporates a complete set of tools for your online sales
Avangate is already tested and successfully works in many online shops.
We invoice your clients so you don't have to.
Receive assistance for implementing the online payment system on your site.
Avangate helps you make more money
The Avangate Affiliate Network gives you access to a wide online distribution channel for your products
With the Avangate Web Marketing services you can optimize your site for better sales
Additional revenue streams from Backup CD and Download Insurance Service
Avangate is safe
Advanced Antifraud mechanisms screen every order for your peace of mind.
Avangate assures the guarantee requested by the bank for the payment dispute (chargeback).
Availability
You may receive payments from all over the world in several payment methods.
Avangate offers assistance to your buyers regarding payments by phone or email, 24x7.
back to questions
2. How can I use Avangate services?
The most important requirement to use the Avangate services, is to have a web site that contains at least the following information:
The detailed description of the offered products and/or services.
The prices, specifying if they include or not VAT or other taxes.
The legal name of the business and the identification data.
The policy for the possible complaints received from the buyers.
Also, during the contract, you have to operate your site according to any legal demands required in your country.
back to questions
3. Are there products or services that are not accepted by Avangate?
The online payment is not accepted for products/services forbidden by The Netherlands/USA or international laws. Avangate accepts products or services, such as program codes, of the information or data stored in digital format, together with their accompanying documentation, including activation and reloading electronic codes, e-traded through AVANGATE platform but excluding the gambling, lottery and bets.
For more details about the accepted products and services, please contact us.
back to questions
4. What are the steps to begin selling software or services with Avangate?
Fill in the registration form;
Our staff will verify the information and will activate your control panel
Sign the contract;
Add your products to the platform and set it to Go Live once is ready
Your account is active and you can start selling through it.
back to questions
5. Can I resell Avangate services?
No. Avangate services can not be resold to a third party.
back to questions
6. What do buyers see on their account statements received from the bank?
The avangate.com website and your shop name will appear on the credit card statement. Also the main Avangate shopper support number will be present.

An account statement will look like this:
Merchant Name: Avangate.com/yourshop.com
Merchant City: +31 88 000 0008
back to questions
7. What exactly is going on when somebody buys one of your products?
Ordering through Avangate is a 3 steps process:
When a client decides to pay, by clicking on the buy button he is redirected to the Avangate secure server, where he can enter the payment details. The design of these access pages on the server are personalized, respecting the design elements of your site.
Once the order is placed, it passes through the Avangate antifraud and you are notified by email or HTTP post about the purchase.
The products are delivered by Avangate to the customer by email* .
*in case the buyer has ordered a Back-up CD, Avangate will also deliver the software on optical storage;
back to questions
8. What advantages do your clients have?
People choosing to buy your product through Avangate have the following benefits:
Payments done through Avangate are fast and secure
Avangate offers assistance to the buyers regarding payments, by phone or email, 24x7.
The products are delivered electronically (by email) in a few minutes.
No additional commissions are paid by the buyer.
back to questions
9. What additional services will I be able to offer my clients?
With Avangate you can offer the following additional services:
Back-up CD - for a small fee, the client can choose to have the software delivered on optical storage after the electronic delivery by email;
Download Insurance service - this service lets end-users re-download the software they have purchased for two years, at anytime.
Gift Option - the client will pay for the software and it will be delivered to another person as a gift
MyAccount a dashboard for the clients where they can view in detail all the orders in the Avangate system.
back to questions
10. Are there any additional fees for using the Avangate Affiliate Network?
Avangate does not charge any supplemental fees or commissions for the sales done through the Avangate Affiliate Network.
back to questions
11. What is TrialPay eMail follow-up?
Avangate has partnered with TrialPay to help you regain lost customers and create new revenue by sending automatic follow-up emails to would-be customers, giving them an offer to get your product for free through TrialPay.
TrialPay is a revolutionary payment platform that significantly increases conversion rates by matching prospective buyers with their preferred brands. Your customers get a free license to your software by completing one offer from TrialPay's blue-chip advertisers. TrialPay uses revenue from the advertiser to pay you the full value of your software - and often even more.
back to questions
12. Can I cross-sell other vendors products in my shopping cart?
Yes, you can, by using Network Cross-Selling in the Avangate System.
back to questions
13. Where can I find the W8-BEN-E form and the W9 Form?
You can download the W8-BEN-E form and the W9 Form from here.
back to questions
Payment
1. How and when will I receive the money from the successfully closed sales?
Usually, the amounts charged from the clients (minus the Avangate commissions per transaction) are transferred to you monthly, through wire transfer, check or Paypal, on the 16th next month, for the current month. The payment may be done more often if a minimum volume of monthly is reached.
back to questions
2. What is the pricing for the Avangate eCommerce Sercives?
For each transaction you will be charged with 4.9% commission plus EUR 1.95 ($2.5) or with 8% commission with a minimum of EUR 1.95 ($2.5) for the Standard Edition and with 3.99% commission plus EUR 0.79 for the Growth Edition.
There are no monthly fees, no leases, and no gateway fees.
For more information regarding taxes and commissions, please click here, from where you can test our fee calculator.
back to questions
3. Do you accept payments from all over the world?
Yes, the payments may be done from any country, by any credit card enrolled under one of the logos accepted by our system, no matter the currency in which the card was issued.
back to questions
4. Do you accept payments in a foreign currency?
Several billing currencies are available for Visa and MasterCard transactions, such as: USD, EUR, GBP, RON, AUD, CAD, CHF, DKK, JPY, NOK, PLN, SEK, RUB, RMB/CNY, HKD, KRW, TWD, BRL, INR, TRY, ZAR, EGP, SGD, AED, ILS, SYP, QAR, SAR. However, the credit/debit card currency is transparent during the ordering process: you can have a credit card issued in Canadian Dollars and be billed in USD. The exchange will be automatically done by your bank without additional costs.
Additionally, when ordering on the internet, product prices can be viewed in other currencies by selecting a different display currency: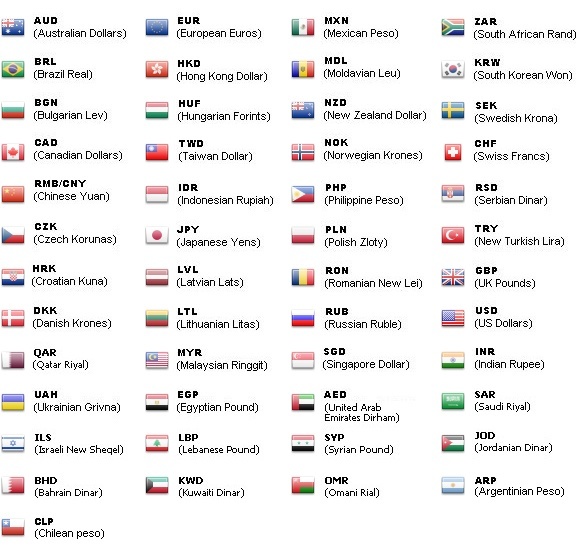 back to questions
5. What methods are accepted for payment?
The following methods are accepted for payment:
Credit/debit card (Visa, Visa Electron, MasterCard, Maestro, Eurocard, DinersClub, American Express, JCB, PostePay, Discover (Novus) and Carte Bleue)
Paypal
Alipay
Direct Debit
iDEAL
WebMoney
Giropay
Solo
TrialPay
PayNearMe
Boleto Bancario
CashU
Ukash
Dankort
Bank transfer (Wire/ACH transfer), Directebanking.com (sofortueberweisung.de)
Check
Payment details by Fax
Vendor 2 Vendor
Purchase order
Subscription with Recurring Billing (available for PayPal, Visa, MasterCard, JCB, American Express, Carte Bleue, Direct Debit & Dankort transactions)
back to questions
6. Are the virtual credit cards accepted for payment?
Yes, a virtual card will be treated as any other card issued under MasterCard or VISA logo.
back to questions
7. A client's credit card wasn't accepted for payment, although was issued under one of the accepted international organization logos. Why?
Reasons for a refusal may be one of the following:
Insufficient funds - it's necessary to have the appropriate funds on the card or to increase the current credit limit;
The card is on the "blacklist" - the card is reported as lost or stolen, blocked by the owner and issuing bank;
The bank that issued the card do not authorize online transactions. In this case, the card owner must contact the bank and request to activate this service.
The bank that issued the card could not be contacted and the restrictions defined by the issuing bank do not allow online transactions or they limit the maximum value of the transaction. In this case the card owner must call the support service offered by the issuing bank at the phone numbers usually found on the back of the card.
back to questions
8. What happens in the case of chargebacks?
If a customer makes a chargeback, Avangate offers the necessary assistance to solve the incident with the issuing bank free of charge. Avangate will return the perceived commission in all cases except the case where the chargeback is done due to a customer complaint about the purchased product.
back to questions
9. What happens if a client returns the products or requests a refund?
In such cases stipulated by law, the client may return the purchased products and solicit the refund. In these situations, Avangate will assure the transaction reversal, returning the money to the customer, retaining only the commission perceived for the initial payment transaction. All refunds are done only after prior approval from software author.
back to questions
10. What are the differences between Scheme I and Scheme II?
Pricing (commission per transaction). Scheme I and Scheme II offer the same features and services; the only difference is that Scheme I works best with average transactions above 70 EUR (85 USD) and Scheme II is better for cheaper products, with transactions below 70 EUR (85 USD).
back to questions
11. How do you deal with VAT?
Avangate acts as a reseller of your products. According to EU regulations, all customers located within the EU are required to pay VAT unless they have a valid VAT ID, in which case they are exempt from VAT.
As per the new set of European Union regulations for VAT that came into effect starting January 1st, 2015, all of the purchases made through Avangate by EU shoppers will be charged a VAT rate according to the customer's country of residence or establishment. This rate may be higher or lower than the 21% Dutch rate previously in effect.
In addition to VAT adjustments, please be informed that sales made by Avangate to customers established in Iceland, Norway and Switzerland (outside of the EU) are subject to each country's VAT.
For a list of EU members and their standard VAT rates, as well as more details on the VAT Regulations, please check out the full documentation and the European Commission Jan 1, 2015 Updates.
back to questions
12. Do you charge customers additional taxes?
Yes, for back-up CD/DVD orders paid by Discover cards only, US sales tax is applied for California, US based shoppers.
back to questions
13. My software supports license renewal. Does Avangate support recurrent billing?
Avangate can activate, by request, the recurrent billing module. You will be able to import licenses, to set the renewal periods and notifications and to customize the messages sent to your clients when a license is about to expire.
back to questions
Avangate Prepaid MasterCard®
1. Are there special requirements for obtaining the Avangate Prepaid MasterCard®?
The Avangate Prepaid MasterCard® is offered to you in partnership with Payoneer, this means you will have a contract between you and Payoneer. The only requirement to be able to request an Avangate Prepaid MasterCard® is to be registered as a software vendor in the Avangate System. Please note that the Avangate Prepaid MasterCard® is namely issued, and can't be issued in the company's name.
If you do not have an Avangate vendor account you can sign-up now for one.
back to questions
2. How can I request the Avangate Prepaid MasterCard®?
Very simple:
If you are an Avangate Vendor login in the Avangate Vendor Control Panel and visit the Financial Details section. If not, if you do not have an Avangate vendor account you can sign-up now for one.
Click on the Request an Avangate Prepaid MasterCard and you will be redirected to Payoneer registration page
Fill in the form with the requested details
After you submit your application, you will receive an email confirmation from Payoneer. After you complete the application, it can take up to 4 business days for the card to be approved and sent by standard mail. If you live in the U.S. you can expect your card within ten business days. If you live outside the U.S. it will take appx. 25 business days to receive the card. This is based on the postal service at the destination country. If you don't receive your card within this timeframe, please contact support@payoneer.com.
The Avangate Card will be sent to you by mail. The only thing you have to do before starting to use it is to activate it.
back to questions
3. How & where can I use the Avangate Prepaid MasterCard®?
The Prepaid MasterCard® works just like any other MasterCard®. The card is accepted at all locations worldwide, wherever MasterCard® is accepted electronically. You can use it at any point of sale location to make purchases, whether online (wherever MasterCard® is an accepted form of payment) or at retail locations. You can also use the Avangate Prepaid MasterCard® at ATMs worldwide to withdraw cash. With the added security of choosing your own PIN, you can be assured of no unauthorized use of your card.
Click here to view available ATM's on MasterCard® International's site.
back to questions
4. What happens to my Avangate Prepaid MasterCard® card if I don't use it?
If the card value is depleted to zero, no fees will apply. Should the card remain at a zero balance for sixty (60) consecutive days, the account will be suspended. You are always welcomed back when the card is reloaded.
back to questions
5. Can I load my Avangate Prepaid MasterCard® in other ways?
Yes. You can load the Avangate Prepaid MasterCard® with other credit or debit cards (Visa® or MasterCard®), electronic checks (US bank accounts only), or cash. To learn more, go to www.payoneer.com.
back to questions
6. What are the costs associated with the Avangate Prepaid MasterCard®?
Please visit the Payoneer Pricing and Fees section to view card use and loading fees.
back to questions
7. In which currency will I receive the money on the Avangate Prepaid MasterCard®?
The monthly payment from Avangate will be sent to you in USD on the Avangate Prepaid MasterCard®. When using the Avangate Prepaid MasterCard® to withdraw cash from an ATM, you will receive your money in the currency of the country in which the ATM is located.
back to questions
8. Who is Payoneer?
The leader in international payout solutions, Payoneer specializes in streamlining payouts for companies that need to pay remote, dispersed populations all over the world. Payoneer replaces traditional payments methods with its innovative MasterCard prepaid debit card solutions. Payoneer works together with First Bank of Delaware and MetaBank to process and issue MasterCard prepaid cards. Payoneer has offices in New York and Tel Aviv.
back to questions
9. Do I need a bank account to use the Avangate Prepaid MasterCard®?
No! You can use Avangate Prepaid MasterCard® with or without a back account attached.
back to questions
10. How do I activate my Avangate Prepaid MasterCard®?
Once you receive your card in the mail, you can activate it as follows:
Click on Activate on the Payoneer homepage.
Enter the UserID and Password you chose when your card was ordered.
Enter your new PIN (must be 4 digits) and click Activate.
Click Continue. Payoneer will display a confirmation message and send an e-mail when you have successfully activated the card.
back to questions
11. Who can use the card the Avangate Prepaid MasterCard®?
The cardholder is the person whose name is imprinted on the card. This is the person to whom the card was issued and the named person is the only authorized user of the card.
back to questions
12. How many Avangate cards can I request for one vendor account?
Just one Avangate Prepaid MasterCard® can be issued per vendor account.
back to questions
13. Can I switch to receive the money by wire transfer at any time?
Yes, you can change the payment method for receiving the money in your account at any time.
If you are an Avangate software vendor, please contact your dedicated account manager or email the financial department at: pay@avangate.com
back to questions
14. How do I check my balance, check the PIN or the transaction history?
After requesting the Avangate Prepaid MasterCard® you will receive from Payoneer all the documentation and information needed.
Steps for checking the balance:
Click on My Account (note: you can also click on My Account from the Payoneer homepage).
Enter the UserID and Password you chose when your card was ordered.
Select the option to view your balance.
back to questions
15. What is the maximum amount the Avangate Prepaid MasterCard® can be loaded with?
The Avangate Prepaid MasterCard® card allows a total limit of $12,500. A daily spending limit is set at $2,500. Daily ATM withdrawal limit is set at $1000. Ex: If you withdraw a $1000, you have $1500 available for the day.
The card limit of $12,500 is only for the available balance on the card, but the Payoneer account can have unlimited balance. For example: a payee can have $12,500 balance on his card and a $13,500 balance in his Payoneer account, once the card balance goes below $12,500, his card will automatically be refilled, until he has no extra balance in his Payoneer account.
Note: Withdrawal limits may also be restricted by the local ATM acquirer, and they could be lower than the daily limit stated above.
back to questions
16. What do I do if my card is lost or stolen?
Contact Payoneer immediately to report a lost or stolen card.
Payoneer is available 24 hours a day, 7 days a week at the following telephone numbers:
Within the US: 1-800-251-2521 x2
Outside the US: 1-847-461-1386 x2
back to questions
17. After how long the Avangate Prepaid MasterCard® expires?
The Avangate Prepaid MasterCard® is valid 2 years after the date the card is issued. The expiration date is printed on your card; before the card expires you will receive a new one with a new expiration date.
back to questions
18. Should I need additional customer service support, when should I contact Avangate and when should I contact Payoneer?
You should contact Avangate for all issues relating to how we track your earnings. Once any funds are loaded onto your card, any questions you may have about your card account and/or card usage should be directed to Payoneer.
back to questions
Implementation
1. Do I need an ordering system (shopping cart) on my website?
No it's not necessary to have your own ordering system. The Avangate solution includes an optional ordering system (shopping cart) which may be implemented easily on any website.
back to questions
2. If I already have an ordering system can I use the Avangate solution?
Yes. Avangate offers multiple integration options. You can use your own shopping cart or the one already integrated in the Avangate platform.
back to questions
3. Do I need an SSL Certificate to use the Avangate solution?
No. Before entering all the sensitive information about the payment, the buyer is automatically redirected to a secured Avangate server which uses SSL encryption for this information.
back to questions
Security
1. What methods are used to prevent fraud?
Avangate provides a complete set of services to prevent fraudulent transactions:
Automatic screening of all orders through Fraud Detective 2.0 technology
Supplemental human verifications with a 24x7 team of Cyber-Cops
3D Secure standard introduced by Visa and MasterCard
back to questions
2. Do you use SSL encryption?
Yes. All the information entered on the Avangate servers are encrypted using SSL.
back to questions
3. Do you store credit card information on your servers?
No, if the cards are issued under the brand of MasterCard and VISA, the credit card data is not stored on Avangate servers. The information is directly passed online to the bank systems for authorization.
If the cards are issued under the brand of other organizations, we store this information encrypted using popular encryption algorithms and our own algorithms, on environments physically separated from environments with online access. The storage is made only for a maximum period of time in which a payment chargeback can or may be initiated by the client.
back to questions
4. How do I know you work in a secure eCommerce environment?
All Avangate Services are PCI DSS Level 1 Certified (Payment Card Industry Data Security Standard). PCI DSS is the most important security standard for the card payment industry and includes a set of comprehensive requirements for security management, policies, procedures, network architecture, software design and other critical protective measures. PCI DSS was developed by American Express, Discover Financial Services, JCB International, MasterCard Worldwide and Visa Inc., to help facilitate the broad adoption of consistent data security measures on a global basis. For further information on PCI DSS, please visit: www.pcisecuritystadards.org
back to questions
Software Delivery
1. How do you deliver my software?
Avangate performs on your behalf Automated Key/ Code and Software Delivery (real time order delivery) - Key/code delivery implies sending by email to the end-user customer an alphanumeric code or a binary activation key. Avangate has developed and offers you the entire delivery mechanism for codes or binary keys, through several methods:
Codes from static lists, added in the Avangate system and delivered one by one (stock)
Codes from dynamic lists, generated in real time by interrogating your web server
back to questions
2. Do you use link delivery as well?
Yes, we can also use link delivery to distribute your software products. Your customers can quickly and easily download a fully registered version of your digital products from the Avangate secure server right after successfully placing an order.

Customers receive an email containing the download links for each of the digital products they have purchased. The download URLs give them access to the relevant files and are limited in time and number of tries.

Another benefit is that you will not have to worry about storage space or bandwidth since the product files are stored on the Avangate high bandwidth servers.
back to questions
3. Do you offer backup CDs?
Yes, we do. This service enables vendors to offer end-user customers personalized burn-on-demand CDs of the software they just purchased through the Avangate eCommerce platform. Customization of the Avangate Backup CD is complete, both in terms of content and CD layout; vendors gain additional promotional and sales opportunities as each backup CD sold can include trial copies of other software programs, special offers, presentations, etc.
No set-up fees, no inventory and no minimum order volumes are required.
The average shipping time for your Back-up CD/DVD is 4 to 7 business days, but please allow up to 2 weeks for delivery due to variances in production and shipping.
Location of customer delivery address and elapsed business days from order date:
For customers located in USA: 7 days
For customers located in Europe: 9 days
For customers located elsewhere: 21 days
back to questions
4. Can I deliver the software myself?
Yes, the Avangate system allows a delayed order completion for vendors who prefer to do the actual software delivery themselves. The process includes 3 steps:
The customer places an order via the Avangate ordering interface.
The payment is approved by the issuing bank and subsequently the amount corresponding to the order is blocked on the shopper's card.
The vendor receives a notification regarding the order and he can deliver the product manually.
Note: Only after delivery is confirmed by the vendor the payment is cleared and the money transferred from the shopper's card to the Avangate bank account.
back to questions