Close
Avangate Acquires 2Checkout

to Expand Payment Flexibility and Broaden Market Reach

Combined company will bring a unique combination of eCommerce and subscription management solutions to market through various payment models across the globe.
Find out more:
Avangate success stories | Bodrag
Bodrag case study and testimonials on implementing the Avangate ecommerce solution and using its web marketing services (software submission, usability audit, SEO).
The client: BODRAG

Software: Outlook Express Backup Expert, Wipe Expert, Foxmail Backup Expert
Site: www.bodrag.com
The Project
Founded in 2004, Bodrag develops Windows-based utility software for home users, professionals and companies.
Bodrag implemented the Avangate online payment and fraud prevention solution allowing them to safely accept credit card payments online. They also benefited from the built-in Avangate cross-selling options and real time sales reports and statistics.
Key issues
website compliant with web usability methodologies and search engine optimization guidelines
targeted traffic to the website
downloads from major search engines and software directories
increased online software sales
The Challenge
www.bodrag.com was a website that had not reached its full potential. The company was offering award-winning products, however the site was getting too little traffic from search engines. Also, visitors to the site were confronted with a somewhat difficult to use website.
Prompted by advice from Avangate, in february 2006 Bodrag decided to take steps and radically improve the quality of their website and increase its online visibility.
They changed the layout of the site and needed advice on how to improve it from a usability and search engine optimization perspective.
Objectives
Driving targeted traffic and downloads from major search engines and software directories.
Defining the website in compliance with the best methodologies in web usability and search engine optimization guidelines
Increase online software sales
The Avangate solution
Software submission
We provided Bodrag with full consultancy on how to create a PAD file required for software submission. We also made the first product submissions (different versions) to all major shareware directories on behalf of our client in order to increase their products' visibility on the internet. We have increased the link popularity by developing a link strategy and we have included links to the Bodrag website on our parteners' websites.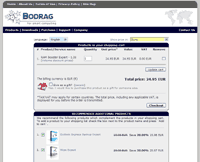 Usability audit
We delivered a usability audit outlining specific issues and recommendations for changes that needed to be carried out to the site layout. Based on this report, Bodrag designed a new layout, implemented in February 2006.
Bodrag was also advised to fully customize the ordering pages. This was easily achieved from the Avangate Control Panel - the online payment system administration interface.
Search Engine Optimization
A SEO Audit was also provided, with specific recommendations on how to optimize the code, fix broken links and at the same time keep the Page Ranks URLs had achieved with the previous version of the site. All this had to be implemented before going live with the new website version.
We continued the software submission for new versions of the software products.
In addition to real time reports and statistics on orders, we started to provide Bodrag with regular reports on search engine position and shareware directory listings.
Results
Bodrag products are now present in the most important software and shareware directories.
Positive results were visible immediately after the auditing and restructuring work was complete: , by the end of March 2006, bodrag.com had achieved top positions on Google for several of their chosen keywords, and a steady influx of "new" traffic began to come in from software directories. Bodrag's website now receives a regular flow of visitors.
Most importantly, their web presence improved with immediate results to the bottom line. Increased traffic and exposure generated sales and downloads from customers Worldwide and only one month after the release of the new optimized site, their sales doubled, and are continuing to grow.
Client feedback
Our internet software sales massively increased after implementing Avangate's recommendations, so we are obviously happy with their work. We will continue to request their assistance as we built new internet marketing strategies and campaigns.
How Avangate can help you
Avangate is an e-Commerce platform for electronic software distribution, providing all the tools and expertise you need to accept payments online, optimize the sales process and increase your visibility on the Worldwide Web.
For more information please contact us. We endeavor to reply to your query within 24 hours (working days).