Close
Avangate Acquires 2Checkout

to Expand Payment Flexibility and Broaden Market Reach

Combined company will bring a unique combination of eCommerce and subscription management solutions to market through various payment models across the globe.
Find out more:
Affiliate Success Stories
Genie9-Commercial Developer of Backup, Archiving & Security Software Solutions
Sales volumes increased by 124%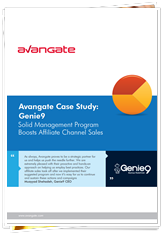 Genie9 is a commercial developer of backup, archiving and security software solutions, providing products that combine reliability, flexibility and ease of use for both individuals and organizations.

This case study highlights the critical nature of actively managing an affiliate program to drive increased sales via this rapidly growing channel. Genie9 leveraged Avangate's Affiliate System capabilities and promoted their company and products to the Avangate affiliate community, quickly generating positive results directly to the bottom line.

Results at a Glance:
Sales volumes increased by 124% (2 month average after the email marketing campaign compared with previous 6 month average), with sales continuing to pick up even after campaign completion
Number of orders generated by affiliate activity doubled within one month
Number of affiliate sign-ups grew threefold (month-on-month comparison)
Want to learn more? Download the full case study here.