Learn more about Avangate certificates
Worldwide recognised companies such as Visa, MasterCard, PayPal, VeriSign, McAfee, PCI Security Standards Council and Better Business Bureau certify our platform and the technologies we use.


PCI DSS Level 1 Certified (Payment Card Industry Data Security Standard)
Avangate services are PCI DSS Level 1 certified (Payment Card Industry Data Security Standard). PCI DSS is the most important security standard for the card payment industry and includes a set of comprehensive requirements for security management, policies, procedures, network architecture, software design and other critical protective measures.
PCI DSS was developed by American Express, Discover Financial Services, JCB International, MasterCard Worldwide and Visa Inc., to help facilitate the broad adoption of consistent data security measures on a global basis.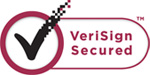 Secure ordering
Avangate holds a VeriSign certificate for secure SSL (Secure Socket Layer) orders.


3-D Secure vendor/client protection
Avangate ordering system uses Verified by Visa/MasterCard Secure Code authentication to give enhanced protection both to buyers and merchants.


McAfee Secure
McAfee SECURE web sites have passed a set of rigorous daily security scans that helps address the security concerns like hackers stealing the confidential information. The McAfee SECURE mark appears only when a website's security meets the highest security scanning standards of the U.S. government, Visa, MasterCard, American Express, Discover and JCB.



BBB Accreditation
Avangate is rated by BBB (Better Business Bureau) with A+, which is the highest rating available. BBB assigns ratings by evaluating businesses against a large set of criteria, with the goal of offering consumers and businesses alike an unbiased source to guide them on matters of trust.