Avangate Digital Commerce for SaaS and Cloud Companies
Complete Subscription Billing
Avangate gives SaaS and online services everything needed to jumpstart global recurring revenues and leverage the widest possible distribution across all growing markets. Avangate enables you to quickly ramp up and reduce your payback period - to further shorten the sales cycle, benefit from recurring billing and accelerate revenue growth.
Start Selling in Minutes
Avangate can help!
Integrate Commerce, Subscription Billing and Payments
Avangate Provides a Complete Solution for Growing Recurring Revenues
Avangate provides a complete solution for growing recurring revenues. Avangate lets you define your customer purchase experience across touchpoints, including in-app purchasing. Support advanced subscriber management, upgrades, downgrades, recurring billing, pro-rations, co-terminations, rate-plan management, global payments and activation in one integrated suite. Sell with 133+ currencies, 38 payment methods and 31 languages in over 100 countries. And leverage Avangate's advanced infrastructure and APIs to gain PCI compliance and the ability to store credit card info securely, without the cost or headaches.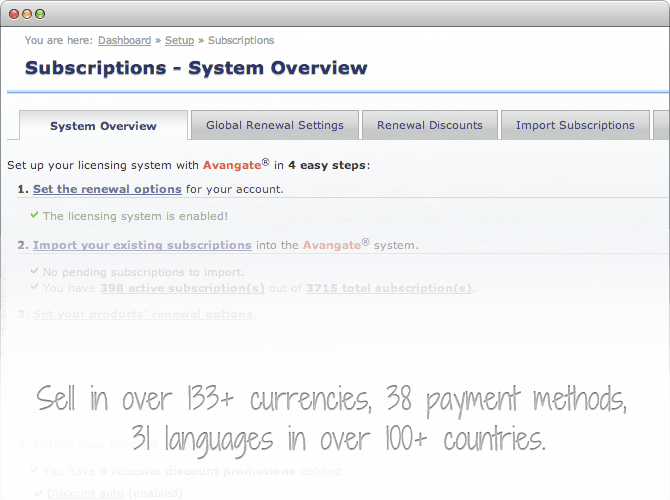 Manage Channels & Distribution
Avangate Provides Complete Control and Visibility Over VARs and Affiliates for Bulk Purchases
Grow revenue through channel-enabled SaaS. Manage channel partners globally, extend credit limits and support multiple payment methods from credit cards to purchase orders. And leverage Avangate's global affiliate network consisting of 40,000+ software- and online services focused channels.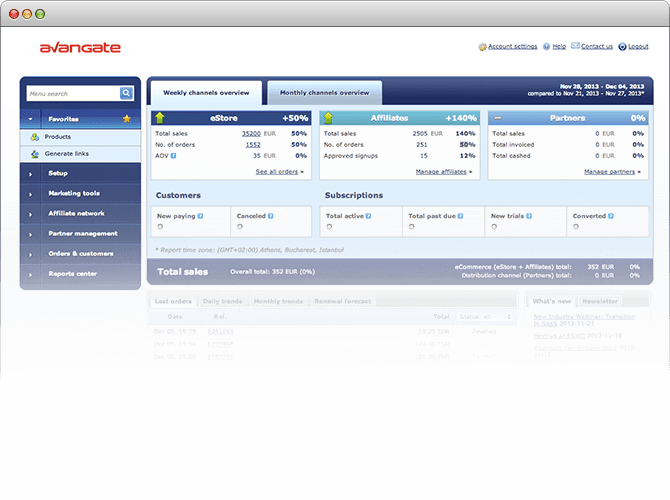 Profitably Grow Your Subscriptions
Reduce Churn, Improve Loyalty and Satisfaction
Avangate offers several automated features such as account updaters, custom retry logic and intelligent payment routing to maximize renewals. Leverage notification settings and advanced promotions to periodically send reminders to customers, set grace periods, and even incentivize with offers of upsells, cross-sells and renewal discounts. Plus, Avangate enables customers to renew via self-service and escalate to assisted service as needed.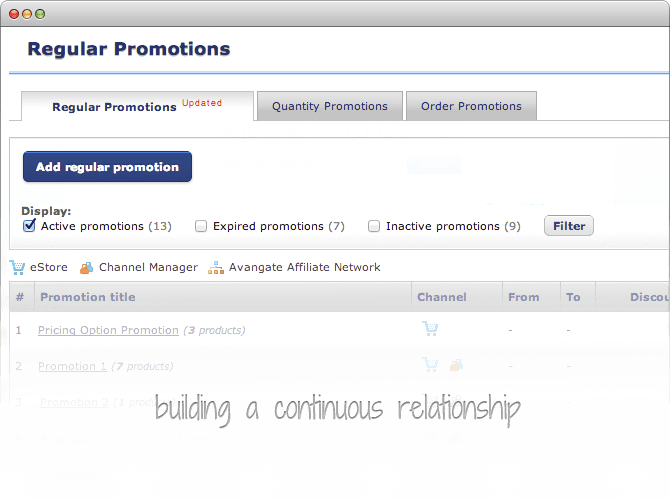 What's next
Choose what works for you

Have us contact you

Check it out