销售开始时间 Dirac Live Room Correction Suite - Stereo Version
[% foreach from=$arr_tpl.blocks_html.top key=key item=block %] [% /foreach %]
Avangate 联属会员市场
还在等什么,立即加入 Avangate 联属网络吧!

最新报价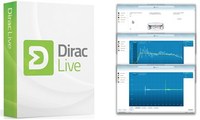 商人: Dirac Research
类别:
For many, the personal computer serves as both their music library and the basis for their sound system. Whether you use a PC- or Mac-based audio system, the Dirac Live Room Correction Suite™ -Stereo Version, helps listeners to correct for one of the weakest components in the audio chain: the listening room.

Dirac Live not only corrects the frequency response, but also the impulse response of the loudspeakers in a room, yielding improved imaging and timbre, better clarity, tighter bass, less early reflections as well as reduced resonances and room modes. The only technology on the market that corrects both frequency and impulse responses of a room, this sophisticated algorithm is used in high-end AVRs, in luxury car sound systems from companies such as Rolls Royce, BMW and Bentley, as well as in thousands of high-end digital cinema theaters across the world.
The room correction software:
- Can optimize audio in any listening room and put you face to face with the recorded artist.
- Gives the audio system a natural sound with increased musical and vocal clarity.
- Deepens the bass, removes resonances and acoustic problems in sound reproduction.
- Is a cost-effective option to expensive room treatment and sound system upgrades.

Price: 389 Euro
Dirac Research 的其它产品
由您的站点推介到我们这里的访问者将被跟踪 30 天,因此,即使他们在一个月或两个月后进行购买,您仍会从此次销售中获取佣金。
我们会为您提供相关的横幅和链接,以供在您的站点上使用。您只需将横幅和链接放置在您的访问者容易注意到的地方,然后就可以开始计算月收入了。
[% foreach from=$arr_tpl.blocks_html.bottom key=key item=block %] [% /foreach %]