Close
Avangate Acquires 2Checkout

to Expand Payment Flexibility and Broaden Market Reach

Combined company will bring a unique combination of eCommerce and subscription management solutions to market through various payment models across the globe.
Find out more:
6 Usability Mistakes Bugging Me in 2008
My Reasons for Hating Websites
People use the web to interact with other people, to find information, to do online shopping, to download programs and so on. To achieve these things easily, they have to be either familiar with the web sites or be intuitive enough in order to identify all the correct actions when browsing a new one. In the following paragraphs I'll reveal some of the common mistakes bugging me in 2008 that web masters or designers are prone to make.
1. A confusing site structure and content
Nothing is more irritating for the users than a confusing website, where they have no directions and they just have to stumble upon to find out the place where they are. Researchers have stated that web users should be able to go to the exact point they wish in no more than three clicks.
The three clicks could be understood as chances that are given by users to a site - if they cannot reach the destination they want in those three clicks, you lost them. If there are more than three clicks, web developers should be aware that it is high time for a redesign and for a redefinition of the site structure.
But what are the main characteristics of a good site structure these days? The answer is as simple as the question: simplicity. A usable website is a simple website that can be used efficiently by everyone.
Also, notice that most websites have a lot of information that is not necessary for the ordinary user. In this respect, you might care trying Google Analytics in order to detect exactly where users 'stop' on your website. With the aid of this tool, you will also get hints of your website traffic and of which pages on your website need replacement or 'reconsideration'.
Don't forget to use a sitemap for your site: sometimes, this 'detail' is skipped out. Also, please take into account not to mistake the sitemap for SEO with the sitemap for usability. To get more info on sitemap for SEO, check out our article 'Create a Sitemap for More Traffic and Better Navigation'. The sitemap for usability should be built with the end-user in mind - its name says it all: a sitemap is practically a map with all pages of site.
The example below is a concrete illustration of an inconsistent and confusing website. The image talks from itself. Although the site claims that is up-to-date, the navigation and the way it is designed resembles to web as it was 10 years ago.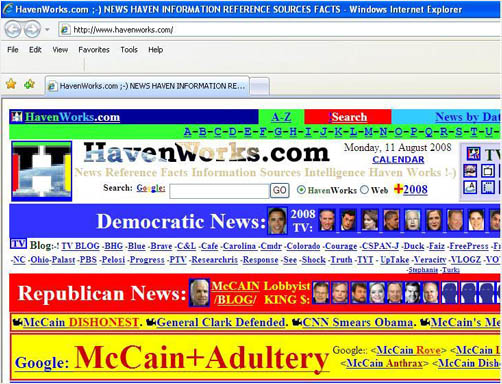 2. Lack of search function
Although not all sites need a search function, a search box on the right part of the page is most of the time assuasive. For the example that I have below, I think that a search function is truly important in spite of a considerable number of links on the main menu.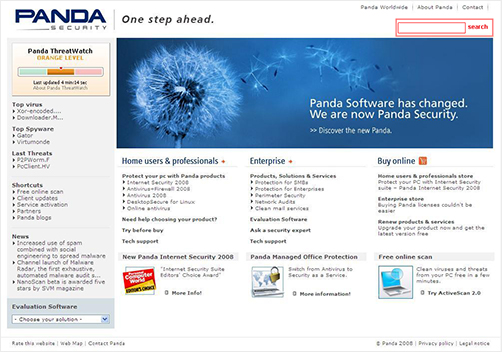 The idea of a search option is nevertheless just the first pace in the entire process. Having a search function will not turn your website into a usable one overnight. Sometimes, if not built correctly, the search function can turn into a source of frustration for the visitors. It's better not to give the impression to the visitor that you hold some information or a product when you actually don't.
Here are some extra tips of what search functions should additionally perform:
in terms of location, this function is usually placed on the upper right side of the page;
the search option should be capable of detecting misspellings and make suggestions to the searchers;
the search box should be as simple as possible, without the so often encountered 'advanced' options
simple searches shouldn't be case sensitive
place a 'Search' labeled button near the search box
the exact matches should be placed before the close matches
emphasize the terms employed to search with clearly visible colors
no/'0'/zero results found message; write a message to suggest alternative searches.
For more elaborated tips, check out 'Searching for Better On-Site Search Usability', an article by Stoney deGeyter.
3. Invisible Links
A frustrating problem is using the same color for links and for ordinary text. The effect is of confusion on the part of the visitor, who will be tempted to click or not on the text provided. In this particular case, you can observe in the photo below the text on the left which is not clickable and the text on the right which is clickable (although they have the same color). Also another problem with the text on the right is its length.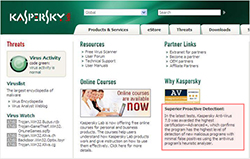 Usually there shouldn't be any links longer than 5-7 words. For more information about linking design, read our whitepaper called 'How to Design your Links'.
4. Non-optimized 404 page
The 404 error or the "Not Found" message is a HTTP response of a server that indicates the fact that the web browser was able to communicate with the server and that the server was not able to identify what was requested or did not have a proper configuration to fulfill the request.
Below you have a concrete example of non-optimized 404 page.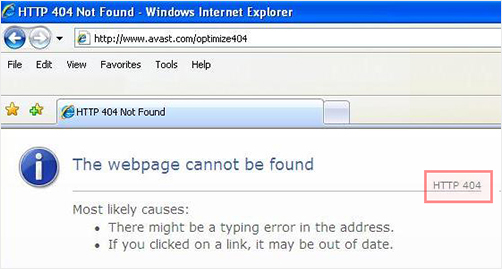 Here are some ideas of customizing your 404 error pages:
Put a link to the FAQ/support page
Put a link to the sitemap
Put a link to the most important categories
Place a search box in the upper side of the page
Add the same style to your 404 page as well as the other pages
And here is an example of well optimized 404 page, observing all of the tips above: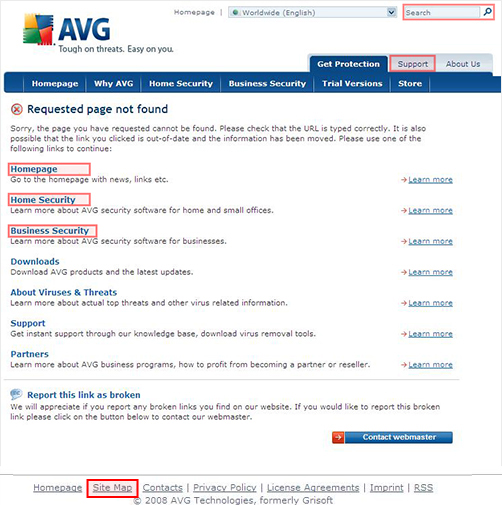 Similar to the invisible links, the customization of the 404 page is also an overlooked problem.
5. Usability forms
We already made a checklist for usability forms in a previous article, in which we tried to give the most important and relevant tips for usable forms. The key concept that should apply here also is the simplicity.
The most important rules that should be considered are:
Users either new or experienced should be able to realize the benefits after completing the forms.
Too many fields to be completed are to be avoided.
There shouldn't be any duplicate fields.
Split your forms if necessary.
Visually nicer forms are easier to fill in.
Ensure that the essential fields to be completed are marked in some way.
Relevant error messages are to be returned.
Keep in mind that people most of the time avoid over-complex forms. Take into consideration the quantity of the fields in the form and make sure to add signs for the mandatory fields (in case you have more than 2-3 fields you expect to be completed).
Of course, sometimes the quantity of the fields to be completed may depend on the final goal the site employing that particular form. In this case there is no excuse: the registration form appeared after trying to download the user's manual.
6. Splash pages
Splash pages are defined as the introductory pages to a website. They most of the times offer elements like: graphic or logo, animation or a flash movie. Splash pages are still as popular as in the old days (maybe a bit less), but still a nuisance to the end-user.
But let's see from a developer's point of view which are the advantages and disadvantages of splash pages:
Advantages:
They have a rapid loading time and all the information is placed on a sole page.
Splash pages allow visitors to opt for the site technology that fits them.
You may potentially gain money on advertisements.
Disadvantages
There is no usability for the user.
Users may be tempted to leave the site: according to relevant studies 25% of visitors left the site after seeing the splash page.
Most search engines cannot index splash pages.
Animations on the splash page are repetitive which might again cause annoyance.
You have above some advantages and disadvantages of using splash screen on your site. It is your decision if you decide to use them or not. Beware that most of the time they cause annoyance to the visitor.
As an example, we all have come across sites that keep us waiting while they are downloading. Most of the times, these are flashy sites putting a lot of emphasis on end-user visual perception.
Conclusion
Usability is about subjectivity, but a collective subjectivity. What might seem ordinary and easy to use for the web designer or a developer might be absolutely confusing for the end user. Since web is all about interactions, one must pay attention to the way a site interacts with the visitor whether he/she understands the website with ease.
You can hardly find any manuals to tell you the right steps. Remember that when you create a site, you should place yourself in an ordinary visitor's shoes; before being a web artist, you should understand the visitor's needs. For best results (an objective view over your site), always make tests: ask someone that has never been on your site to do something that you tell him/her to do.
This way, you will realize that web is not about exclusivism, addressing only to those that understand it, but something that should be understood by everyone.

Download as PDF
View Related Articles
Comments (3)
Copyright ® 2018, http://www.avangate.com all rights reserved.
This article may be reproduced in a website, e-zine, CD-ROM, book, magazine, etc. so long as the above information is included in full, including the link back to this website. Please e-mail at
articles@avangate.com
, before using the article.
Avangate Newsletter
Whether it's news you're looking for or an expert's advice on how to sell software, SaaS or digital goods online, you came to the right place. Find guidance in our latest eBooks, webinars, reports and conversations with industry thought leaders to further increase revenue, maximize the value of every customer, and expand global reach.