Close
Avangate Acquires 2Checkout

to Expand Payment Flexibility and Broaden Market Reach

Combined company will bring a unique combination of eCommerce and subscription management solutions to market through various payment models across the globe.
Find out more:
Start Selling Dirac Live Room Correction Suite - Stereo Version
Up to 85% Commision for Top Affiliates Products
Sell top software and SaaS titles as an affiliate!

Latest offers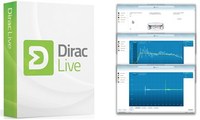 Merchant: Dirac Research
Category:
For many, the personal computer serves as both their music library and the basis for their sound system. Whether you use a PC- or Mac-based audio system, the Dirac Live Room Correction Suite™ -Stereo Version, helps listeners to correct for one of the weakest components in the audio chain: the listening room.

Dirac Live not only corrects the frequency response, but also the impulse response of the loudspeakers in a room, yielding improved imaging and timbre, better clarity, tighter bass, less early reflections as well as reduced resonances and room modes. The only technology on the market that corrects both frequency and impulse responses of a room, this sophisticated algorithm is used in high-end AVRs, in luxury car sound systems from companies such as Rolls Royce, BMW and Bentley, as well as in thousands of high-end digital cinema theaters across the world.
The room correction software:
- Can optimize audio in any listening room and put you face to face with the recorded artist.
- Gives the audio system a natural sound with increased musical and vocal clarity.
- Deepens the bass, removes resonances and acoustic problems in sound reproduction.
- Is a cost-effective option to expensive room treatment and sound system upgrades.

Price: 389 Euro
Other products from Dirac Research
The visitors that come to us from your site are traced for at least 30 days, so if they buy even in a month or two, you will still get your money from the sale.
We will provide you with banners and links to use on your site. All you have to do is place them so that they are easily noticed by your visitors, then start counting monthly revenues.