Close
Avangate Acquires 2Checkout

to Expand Payment Flexibility and Broaden Market Reach

Combined company will bring a unique combination of eCommerce and subscription management solutions to market through various payment models across the globe.
Find out more:
#1 Affiliate Network for Digital Downloads
Avangate Ranked #1 Affiliate Network for Digital Downloads in 2016
Recent Survey by mThink Credits Avangate as "Most Popular" by some Margin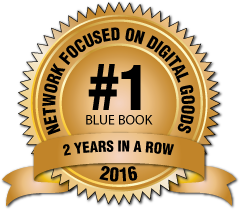 REDWOOD CITY, CA - February 2, 2016 - Avangate, the modern digital commerce solution provider trusted by thousands of software, SaaS and online services companies to grow their business worldwide, today announced its top ranking in the Online Advertising Blue Book Top 20 CPS Affiliate Networks for 2016 focused on digital downloads and fourth in the overall ranking.
Avangate maintains this position for the second consecutive year, getting ahead of giants such as Amazon Affiliates, CJ Affiliate and proving once again its leadership and focus on software, SaaS and other digital goods.
The Blue Book Top 20 is carried out by mThink and takes into account reputation, clientele, popularity and scale of over 400 networks worldwide. An important part of the ranking process is a survey of over 20,000 industry figures, in addition to research, aggregated expert views, traffic data and measures of industry influence.
"Avangate continues to be our most popular digital downloads network by some margin and we are very pleased to see the unrelenting support they get from their publisher community," said Chris Trayhorn, CEO of mThink. "Especially as they compete for rankings with much larger, general networks, Avangate is proof that focus and quality of service are highly appreciated."
"Affiliate marketing plays an important role, as it generates on average 10%-30% of revenue for our clients. We are very pleased with the position gained as first Affiliate Network focused on Digital Goods in the 2016 mThink Blue Book and for maintaining that for the second consecutive year," said Cristian Miculi, Sr. Manager, Managed Affiliate Services at Avangate.
To view the winning networks, visit the 2016 mThink Top 20 Affiliate (CPS) Networks Page.
To learn more about how Avangate can grow your software and SaaS sales, read an overview of the Avangate commerce solutions.
About 2Checkout (formerly Avangate)

2Checkout, a Francisco Partners portfolio company, is the digital commerce & payments provider that helps companies sell their products and services via multiple channels, acquire customers across multiple touch points, increase customer and revenue retention, leverage smarter payment options and subscription billing models, and maximize sales conversion rates. The company's clients include ABBYY, Absolute, Bitdefender, FICO, HP Software, Kaspersky Lab, and many more companies across the globe.
Avangate acquired 2Checkout in March 2017. More information about 2Checkout's Avangate platform and related services can be found on www.avangate.com.
More information on 2Checkout can be found on www.2checkout.com
Media Contact
For media & PR inquiries related to Avangate, please contact:
Delia Ene, Avangate


Avangate Newsletter
Whether it's news you're looking for or an expert's advice on how to sell software, SaaS or digital goods online, you came to the right place. Find guidance in our latest eBooks, webinars, reports and conversations with industry thought leaders to further increase revenue, maximize the value of every customer, and expand global reach.