Close
Avangate Acquires 2Checkout

to Expand Payment Flexibility and Broaden Market Reach

Combined company will bring a unique combination of eCommerce and subscription management solutions to market through various payment models across the globe.
Find out more:
Key Digital Commerce Solution
Avangate Helps Software And SaaS Companies Go Beyond Subscriptions
Commerce Provider Mentioned in Independent Research on Subscriptions and Recurring Billing Solutions as a Key Digital Commerce Platform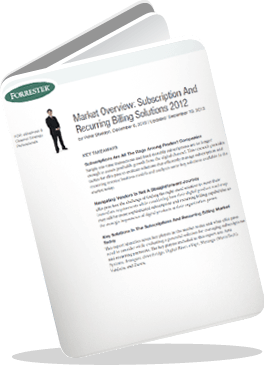 Redwood Shores, CA – December 13, 2012 – Avangate, the agile Commerce service provider trusted by thousands of software and SaaS companies to grow their businesses worldwide through any channel and any model, today announced its inclusion in "Market Overview: Subscription And Recurring Billing Solutions 2012", Forrester Research Inc., December 2012. The report shares tactics for evaluating subscription billing options and highlights eight key vendors, including the Avangate platform and its capabilities designed to support the software and SaaS verticals.
To eBusiness professionals working for software, gaming or publishing firms, Forrester advises to evaluate the vendors identified in this report as "digital commerce solutions", a category under which Avangate is named. "These solutions have sophisticated product catalog management and merchandising tools that are necessary when managing, marketing, and monetizing [digital] products." As part of the recommendation, Forrester advises eBusiness professionals to look at various capabilities, including: supported business models, front-end experience integration tools, globalization capabilities, retention management, marketing, subscription life cycle management as well as security and scalability.
Report author Forrester Senior Analyst Peter Sheldon serving eBusiness and channel strategy professionals writes, "eBusiness professionals need the flexibility to rapidly adjust their pricing strategy or even fundamentally shift the direction of their business model in response to new disruptive startups and competitive product innovations." The report adds, "at the heart of the value proposition that recurring billing solutions offer is the flexibility to easily experiment with new business models without having to rebuild or relaunch the underlying products or services that they support."
Of the vendors interviewed, Avangate was evaluated by Forrester as having "an effective set of subscription billing capabilities." The report continues that "the core platform is modular, supporting subscriptions and other revenue models across multiple channels: direct eCommerce, reseller/channel management, and affiliates. In addition, the company's platform is layered, supporting a fully configurable web-based storefront, APIs for integration with alternative touchpoints, and customer management tools for A/B testing, notifications, and renewal management."
"Software and SaaS companies need digital commerce platforms such as Avangate to go beyond just subscriptions and support the complexity of selling across geographies, channels, and customer segments. Moreover, Avangate offers powerful, flexible subscription tools as part of a complete Commerce solution that helps vendors experiment with dynamic subscriptions and service options, while continually keeping the end customer in mind," noted Carl Theobald, Chief Executive Officer, Avangate. "Our inclusion in this key report is, in our opinion, a great validation of our strategy and capabilities for this industry."
The complete Forrester report is available for download, courtesy of Avangate.
To learn more about how Avangate can grow your software and SaaS sales, read an overview of the Avangate solution.
About 2Checkout (formerly Avangate)

2Checkout, a Francisco Partners portfolio company, is the digital commerce & payments provider that helps companies sell their products and services via multiple channels, acquire customers across multiple touch points, increase customer and revenue retention, leverage smarter payment options and subscription billing models, and maximize sales conversion rates. The company's clients include ABBYY, Absolute, Bitdefender, FICO, HP Software, Kaspersky Lab, and many more companies across the globe.
Avangate acquired 2Checkout in March 2017. More information about 2Checkout's Avangate platform and related services can be found on www.avangate.com.
More information on 2Checkout can be found on www.2checkout.com
Media Contact
For media & PR inquiries related to Avangate, please contact:
Delia Ene, Avangate


Avangate Newsletter
Whether it's news you're looking for or an expert's advice on how to sell software, SaaS or digital goods online, you came to the right place. Find guidance in our latest eBooks, webinars, reports and conversations with industry thought leaders to further increase revenue, maximize the value of every customer, and expand global reach.