Close
Avangate Acquires 2Checkout

to Expand Payment Flexibility and Broaden Market Reach

Combined company will bring a unique combination of eCommerce and subscription management solutions to market through various payment models across the globe.
Find out more:
Webinar: GDPR Compliance for Software & SaaS Companies
The GDPR deadline is fast approaching, so get your company ready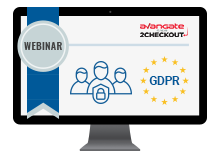 March 6, 2018 - 2Checkout (formerly Avangate), a leader in eCommerce, payments and subscription billing solutions, today announced that it will host a webinar on GDPR Compliance for Software & SaaS Companies.
GDPR affects every company that does business in Europe or aspires to someday. Despite its deadline fast approaching in May, unfortunately, most companies' GDPR planning is behind. This webinar will provide advice from industry experts on what it takes to become GDPR compliant, including what matters most for software and SaaS companies.
Join this webinar to get a better understanding of what GDPR is and to learn:
GDPR basics: Who does GDPR affect? What are the penalties for lack of compliance?
Key topics relevant to software and SaaS companies, including new individual data protection rights, taking consent, cross-border transfer of data, working with third-party suppliers such as cloud computing services and more.
What to be aware of when working with digital commerce and payments providers.
GDPR implications by department: From marketing to sales to finance, everyone plays a role in GDPR compliance. Understand differences between compliance requirements by department and make sure all of the compliance work you do is coordinated effectively.
A GDPR compliance plan and checklist, plus other useful tools and resources that will help you further in your final preparations for compliance.
It's time to get yourself up to speed with GDPR compliance, so this webinar is not to be missed!
When: March 15th 2018, 09:00 AM PST.
Who should attend: SaaS and software companies selling within the European Union.
Roles: Company-wide: GDPR affects every department!

About 2Checkout (formerly Avangate)

2Checkout, a Francisco Partners portfolio company, is the digital commerce & payments provider that helps companies sell their products and services via multiple channels, acquire customers across multiple touch points, increase customer and revenue retention, leverage smarter payment options and subscription billing models, and maximize sales conversion rates. The company's clients include ABBYY, Absolute, Bitdefender, FICO, HP Software, Kaspersky Lab, and many more companies across the globe.
Avangate acquired 2Checkout in March 2017. More information about 2Checkout's Avangate platform and related services can be found on www.avangate.com.
More information on 2Checkout can be found on www.2checkout.com
Media Contact
For media & PR inquiries related to Avangate, please contact:
Delia Ene, Avangate


Avangate Newsletter
Whether it's news you're looking for or an expert's advice on how to sell software, SaaS or digital goods online, you came to the right place. Find guidance in our latest eBooks, webinars, reports and conversations with industry thought leaders to further increase revenue, maximize the value of every customer, and expand global reach.