Close
Avangate Acquires 2Checkout

to Expand Payment Flexibility and Broaden Market Reach

Combined company will bring a unique combination of eCommerce and subscription management solutions to market through various payment models across the globe.
Find out more:
Webinar: Engagement Scoring and Churn Prediction for Subscription Businesses
Learn how to improve subscriber engagement, reduce churn and improve retention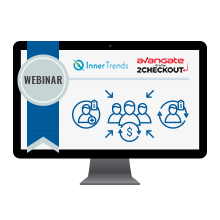 February 12, 2018 - 2Checkout, (formerly Avangate), a leader in eCommerce, payments and subscription billing solutions, today announced that it will host a webinar on Engagement Scoring and Churn Prediction for Subscription Businesses with guest speaker Claudiu Murariu, analytics expert at InnerTrends.
Businesses know that they need to better understand and engage customers to keep them around for the long term. Doing that isn't always easy. This webinar on Engagement Scoring and Churn Prediction for Subscription Businesses reveals how to improve customer retention with accurate user engagement scoring and churn prediction.
Uncovering and focusing on the specific actions that make customers more likely to stay instead of churn will help businesses grow their customer retention and boost the bottom line.
Register for this webinar to learn how to:
Segment users based on their engagement and churn patterns;
Identify the users who are most likely to churn in the near future;
Bonus: Claudiu will explain how to calculate and use an engagement score;
Automate churn reduction campaigns triggered by changes in user engagement;
Identify the minimum set of actions required to decrease a user's churn risk;
Find out who your most engaged customers are and the ideal time to ask them for reviews or recommendations.
When: February 27th 2018, 10:00 AM PST
Who should attend: SaaS and software companies, subscription-based businesses.
Roles: marketing and sales professionals, growth hackers, customer success managers, onboarding and retention executives, BI and product analysts focused on growth and retention.

About 2Checkout (formerly Avangate)

2Checkout, a Francisco Partners portfolio company, is the digital commerce & payments provider that helps companies sell their products and services via multiple channels, acquire customers across multiple touch points, increase customer and revenue retention, leverage smarter payment options and subscription billing models, and maximize sales conversion rates. The company's clients include ABBYY, Absolute, Bitdefender, FICO, HP Software, Kaspersky Lab, and many more companies across the globe.
Avangate acquired 2Checkout in March 2017. More information about 2Checkout's Avangate platform and related services can be found on www.avangate.com.
More information on 2Checkout can be found on www.2checkout.com
Media Contact
For media & PR inquiries related to Avangate, please contact:
Delia Ene, Avangate


Avangate Newsletter
Whether it's news you're looking for or an expert's advice on how to sell software, SaaS or digital goods online, you came to the right place. Find guidance in our latest eBooks, webinars, reports and conversations with industry thought leaders to further increase revenue, maximize the value of every customer, and expand global reach.