Close
Avangate Acquires 2Checkout

to Expand Payment Flexibility and Broaden Market Reach

Combined company will bring a unique combination of eCommerce and subscription management solutions to market through various payment models across the globe.
Find out more:
2Checkout Software & SaaS Buying Behavior Survey
February 28, 2018 - 2Checkout (formerly Avangate), a leader in eCommerce, payments, and subscription billing solutions, is running a shopper survey on software and SaaS online purchases.
This survey will help paint the bigger picture of how consumers or businesses choose a particular software product, what influences their buying decision and their actual online purchasing preferences. 2Checkout is looking to find out how buyers research software or SaaS products, if they prefer on-premise or SaaS models, what payment methods they use, and challenges they have when shopping online.
If you bought software or SaaS online in the past 12 months, please take our survey. Responses are anonymous, confidential and will be used in aggregate.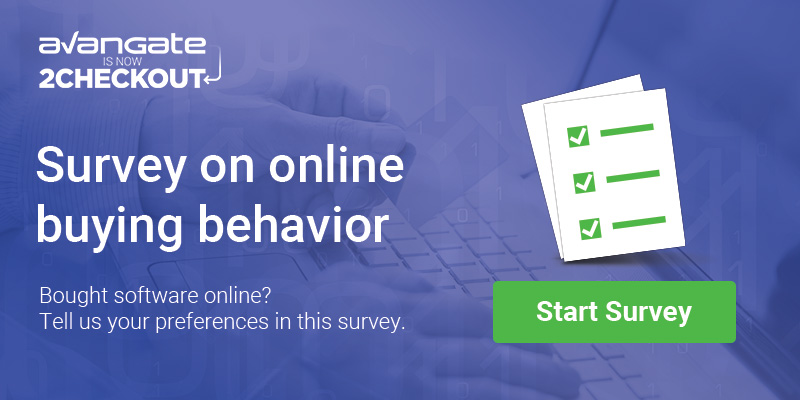 About 2Checkout (formerly Avangate)

2Checkout, a Francisco Partners portfolio company, is the digital commerce & payments provider that helps companies sell their products and services via multiple channels, acquire customers across multiple touch points, increase customer and revenue retention, leverage smarter payment options and subscription billing models, and maximize sales conversion rates. The company's clients include ABBYY, Absolute, Bitdefender, FICO, HP Software, Kaspersky Lab, and many more companies across the globe.
Avangate acquired 2Checkout in March 2017. More information about 2Checkout's Avangate platform and related services can be found on www.avangate.com.
More information on 2Checkout can be found on www.2checkout.com
Media Contact
For media & PR inquiries related to Avangate, please contact:
Delia Ene, Avangate


Avangate Newsletter
Whether it's news you're looking for or an expert's advice on how to sell software, SaaS or digital goods online, you came to the right place. Find guidance in our latest eBooks, webinars, reports and conversations with industry thought leaders to further increase revenue, maximize the value of every customer, and expand global reach.